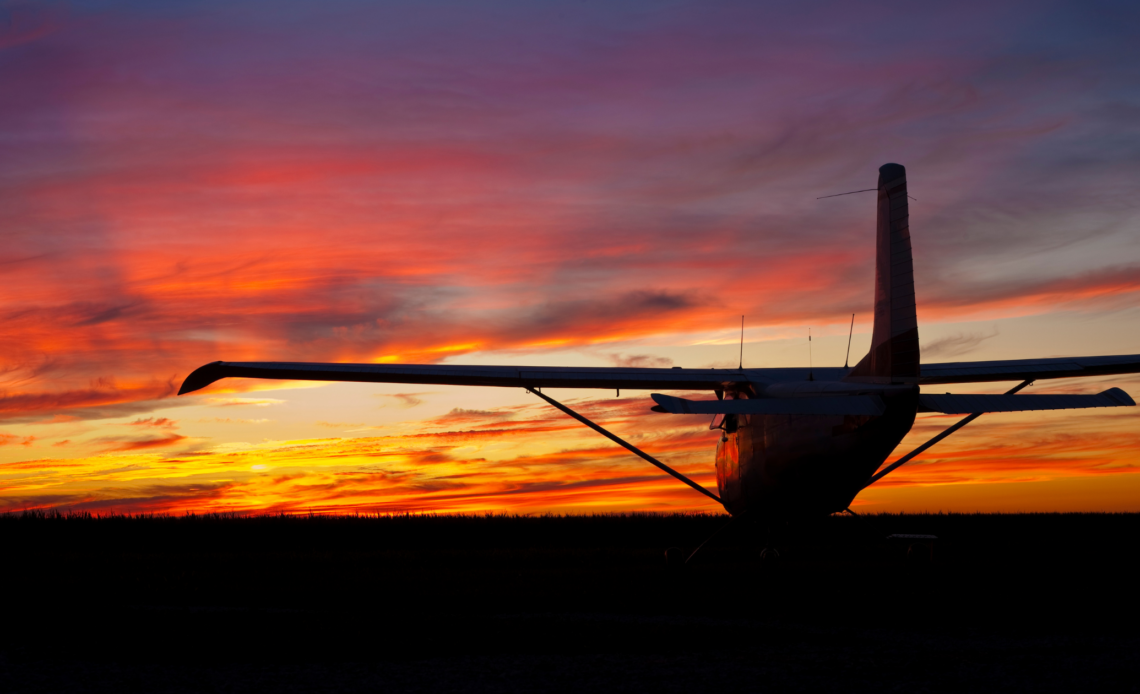 Writer and producer Eric Wald once said, "Every pilot needs a co-pilot, and let me tell you, it is awful nice to have someone sitting there beside you, especially when you hit some bumpy air."
One of the best compliments my husband ever gave me was that I bring him peace when he flies.
As a new pilot, there are lots of reasons to feel anxiety. Flying is a big responsibility and it often challenges your natural human intuition built through years of gravity-bound experiences like driving a car. I don't know if the anxiety ever goes away, but knowing my presence brings peace makes my heart shimmer.
I've tried to support and encourage him in every way possible on this journey. During his training, I helped him study and tagged along to watch him fly before he could take passengers. I even created a scoreboard to judge his landings in the hopes it would make him smile after each lesson.
When he passed his final check ride, I proudly hopped in the seat beside him and went on his first official licensed pilot-in-command flight to celebrate.
It was a big deal… it still is!
He's been a pilot for more than a year now, and it's just the most amazing adventure. One of my highest desires is to be best support that I can be on this journey. I help him pre-flight the plane,  give pep talks, manage the checklists, keep my eye on additional passengers, and do my best to create a peaceful environment inside the cabin.
Two weeks ago, I took the support role to a new level. I volunteered to be the test student for a new flight companion course that's being developed by my husband's friend, Dave.
The ultimate end goal of the course is to learn to fly, navigate, and land the plane on my own, from the right seat.
Rockstar Flight Instructor Dave has done an impressive job at simplifying the art of flying and making it feel more accessible. He's created a very safe and open environment, which has helped take away the anxiety I thought I would feel behind the yoke and removed my silly fear of asking incredibly stupid questions.
He's also helped me deal with the emotional weight I brought into this training. Literally as I was in the process of writing this blog, he sent me an email that helped reframe my mental approach.
My initial desire for wanting to take flight training with an instructor was to be able to step in if my husband was unable to fly the plane. I knew it would be a heavy mental load to consider, but I hoped I'd be able to disconnect from those thoughts during training.
The disconnect became more of a challenge as I studied and visualized the process of taking control of the airplane. I kept getting stuck on the step of getting on the radio to declare an emergency. On my second round of writing out the flight procedures in my journal, my heart rate raised so high that my smart watch thought I was exercising.
I reached out to Dave for guidance on how to overcome this challenge, and I was truly blown away by his response. The takeaway was far beyond just reframing my own mindset. It helped me realize what might be most special about flight training. Learning to operate an aircraft is not just about developing the physical skills and knowledge of flying, it's also about overcoming emotions, reframing limiting beliefs, and pushing your mind beyond what it has been able to comprehend up to this point.
It seems that in order to be an aviator, you have to think and process life on a different plane, dare I say a higher plane (pun intended). You have to think above your normal point of view, quite literally.  
So what was the mental re-focus? Rockstar Flight Instructor Dave shined a very positive light on the multitude of other reasons for this training, including proving to yourself that you can learn to fly and land a freaking airplane. 
I don't know if this is his approach to all flight training or if he's some kind of mind-reading wizard who knew what I needed to hear most, but his words struck a chord deep inside me. This course has now become a personal challenge.
I have four planned lessons, which will equate to about six-ish flight hours before the course's final exercise. Will I be able to learn to fly and land an airplane on my own in this short amount of time?
It looks like Rockstar Flight Instructor Dave and I both have our work cut out for us.